4 Reasons to Use Video Marketing
Reaching a greater number of customers
As marketers are finding more effective ways to reach audiences, videos have become an important staple of the strategic conversion. You can utilize video content as a useful and effective digital marketing tool to add your business's promotional strategy.
Statistics show that using online video content is not only effective, but that demand for it is in fact skyrocketing. This trend is being pushed by 83% of businesses that believe video marketing gives them a great return on their investment. Don't fall behind on the marketing trend that could be making you money.
Want to know more benefits of video marketing? Check out a few advantages down below.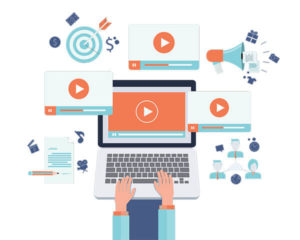 Increasing Conversions
Roughly 50% of internet users search for how to videos related to a product before visiting a storefront. Using videos to display product benefits and uses can increase your conversions by a whopping 80%. The efficacy of videos comes as no surprise with vision being our strongest sense, as a result, most of the information we transmit to our brains is visual. So you can see why educating the viewer is a very powerful method you can use for using video marketing.
Building customer trust
Video content marketing allows you to describe your value proposition, build up relationships with customers, and explain your brand story. Trust is found to be the basis between conversions and sales. Allow the customer to come to you by providing them with useful and interesting information on your product or service.
Skepticism is one of the key emotions customers feel when purchasing products or services via the internet; however, with effective video marketing you showcase your product or service in a conversational format which gives the customer a sense of individual approach.
Video marketing is great way for small businesses to build strong relationships with clients before ever meeting them. Customers gain more confidence in your business when they see you, your team, and products in videos.
This is likely why 57% of consumers said an informative video gave them the confidence to make an online purchase. This goes to show anyone serious about marketing, should be just as serious about video promotion.
Increased Return on Investment
In spite of video production not being the most affordable mode of promotion, videos lead to a significant increase in financial payoff. Due to the constant improvement of technology, creating effective video content is easier and more affordable than ever.
83% of businesses say that video marketing provides a substantial return on investment (According to Wyzowl).
If you need help with your video content marketing, give us a call to see how we can help you grow your business (910) 491-4180!
Schedule Your FREE One-on-One Consultation
There is no limit to what our team can do. Let us help you get noticed and stand out from your competition.
Schedule Your FREE Consultation