Is a Wedding Video Really Worth It?
Is a Wedding Video Worth It?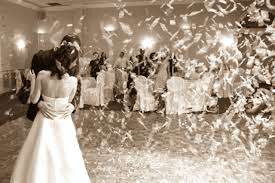 Couples spend most of their wedding budgets on the location, food, and flowers. But those things don't last. This is my take on why wedding videos should be planned for, budgeted for, and booked long in advance.
So, you're getting married. Congratulations! Now it's time to start planning your big day. But don't make the same mistake most couples make… that is, spending so much money on the things that won't last, and leaving little or no budget for the things that will last.
A great location, awesome food and live entertainment or a DJ are all very important – but expensive decor', over the top spreads of cuisine, and extreme party extras and guest favors will soon be forgotten. You need some way to remember all of the little details and special moments that made your day unique!
This is why couples should hire a videographer AND a photographer they trust to do quality work, rather than relying on the best man or their friends to do it. Trust me. You cannot get those once in a lifetime moments back when they are gone, and you certainly can't "do it over" because Jimmy forgot to hit the record button when you came down the aisle.
Christi Lowe Productions Weddings
I tell my brides, if you must skimp on your videography budget, then hire a videographer to shoot the wedding, and have your friends edit the footage. Bad editing CAN be fixed. Bad videography, can't. You cannot take poor quality videos and majically turn them into a cinematic work of art.
So, plan on spending some money on your wedding video and photography. Start saving for it now. You'll be glad you did, and you'll enjoy watching it for generations to come!
Schedule Your FREE One-on-One Strategy Session
There is no limit to what our team can do. Let us help you get noticed and stand out from your competition.
Schedule Your FREE Consultation