Real Estate Videos Are Worth The Investment
So you're selling a home, and you're thinking about doing a video tour. The question is, are real estate videos worth the investment?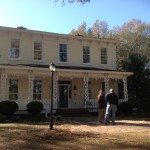 Today's home buyers are doing a lot more research online before they ever consider looking at a house in person. So before you can get them in the door – you've got to accomplish two things: 1) You've got to help them find your listing in the first place. 2) You've got to sell it, enough to make they feel like they MUST schedule a showing.
A well-done, professional video that is properly optimized for search engines can be the key to drawing more home buyers to your listing, AND really adding a high-end touch that still photos just can't accomplish.
For example, take a look at this video done by my parents, who are Realtors in the Hendersonville, NC market.
This video draws you in by highlighting all the wonderful things the area has to offer, with breathtaking views and gorgeous details, and by the time you get to the house itself, you're hooked!
The video then goes on on focus on all the details that make the home appealing to today's buyers, and you get a sense of what the Realtors themselves are like as well – which is also important.
Whether you are selling a million dollar home, or something on a smaller scale, you can reap the benefits of a real estate video that fits your budget. Just make sure that you hire a professional to capture your listing in it's best light – and give the viewers what they are looking for – a place that "feels" like home from start to finish.
Call us today to find out how a real estate video can work for you!
Christi Lowe Productions
615-207-2271 mobile
christiloweproductions.com
Schedule Your FREE One-on-One Strategy Session
There is no limit to what our team can do. Let us help you get noticed and stand out from your competition.
Schedule Your FREE Consultation